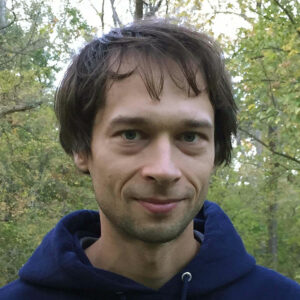 Dr. hab. Adam Izdebski · GSH
Biography
Born and educated in Bydgoszcz, Poland, I spent my university years studying broadly across different disciplines in the humanities and social sciences, taking advantage of an experimental liberal arts program at the University of Warsaw. I have been doing interdisciplinary history ever since, focusing on parallel use of natural scientific, archaeological and textual evidence to answer questions about the complex societies of the past and their social-ecological entanglements. I am a member of the Princeton-based Climate Change and History Research Initiative.
Education and positions held
2020

Jagiellonian University in Krakow, Faculty of History: Habilitation

2017 – 2018

Institute for Advanced Study, Princeton: Member (School of Historical Studies)

2012

Jagiellonian University in Krakow, Institute of History: Assistant/Associate Professor

2017

University of Warsaw, College of Liberal Arts and Sciences: Visiting Professor

2016

Princeton University: Visiting Professor in the Council of the Humanities

2011 – 2012

Freie Universität Berlin, Humboldt Foundation Postdoctoral Fellow

2011

University of Warsaw, Faculty of History: PhD in History

2008

University of Oxford, Faculty of History: MSt in Late Antique and Byzantine Studies

2008

University of Warsaw, Faculty of Psychology: MA in Psychology: Psychometrics

2007

University of Warsaw, Faculty of History: MA in History: History of Late Antiquity
Research Summary
On the one hand, I am interested in questions of methodology: how to combine the evidence coming from the natural sciences and the humanities when studying highly literate and complex societies that developed in Eurasia over the last 3,000 years. This poses major practical and theoretiacal challenges, and overcoming them requires both refinement of existing methods and critical philosophical explorations. On the other hand, I am interested in concrete historical questions that deal with past social-ecological systems. How did the fragmentation/disintegration of the Roman global system at the end of Antiquity affect ecosystems across the Mediterranean and the well-being of individual, ordinary people? What was the actual role of climatic variability in historical developments and culture? What constitutes resilience to environmental stress in complex socities and how can we learn from the experience of the past to cope with the looming crisis of the Anthropocene? Is the challenge we are facing something new, or in some way it reiterates the tensions and structural tendencies present in past complex social-ecological systems? More broadly, in these contexts, I reflect on the role that narrating history (telling stories) has to play in the post-modern Anthropocene societies, as a source of both hope and critical, realistic thinking.
Key publications
Izdebski A., Słoczyński T., Bonnier A., Koloch G., Kouli K., Landscape Change and Trade in Ancient Greece: Evidence from Pollen Data, Economic Journal (2020): 10.1093/ej/ueaa026.
Mordechai L., Eisenberg M., Newfield T., Izdebski A., Kay J., Poinar H, The Justinianic Plague: An inconsequential pandemic?, Proceedings of the National Academy of Sciences 116/51 (2019): 25546-25554.
Izdebski, A., L. Mordechai, S. White. The Social Burden of Resilience: A Historical Perspective. Human Ecology, 46 (2018) 291-303.
Izdebski A., Holmgren K., Weiberg E., Stocker S., Büntgen U., Florenzano A., Gogou A., Leroy S.A.G., Luterbacher J., Martrat B., Masi A., Mercuri A.M., Montagna P., Sadori L., Schneider A., Sicre M.-A., Triantaphyllou M., Xoplaki E., Realising consilience: how better communication between archaeologists, historians and geoscientists can transform the study of past climate change in the Mediterranean, Quaternary Science Reviews 136 (2016) 5-22.
Izdebski A., A Rural Economy in Transition. Asia Minor from Late Antiquity into the Early Middle Ages [= Journal of Jouristic Papyrology Supplement Series 18]. Warsaw 2013: Taubenschlag Foundation.